Software Arturia Piano V Pack Original Licencia Oficial
Precio anterior: 11926 pesos con 70 centavos
10972 pesos con 56 centavos
8% OFF
en 6x 2712 pesos con 97 centavos$2.712,97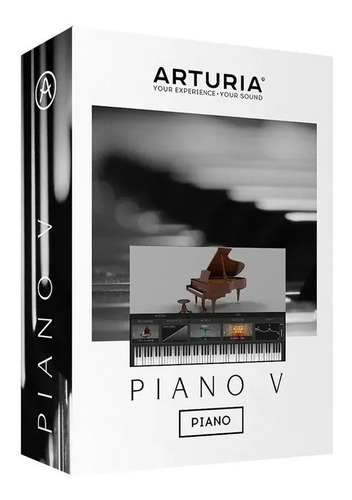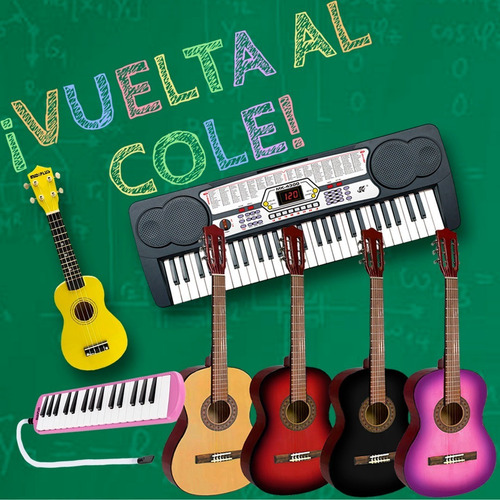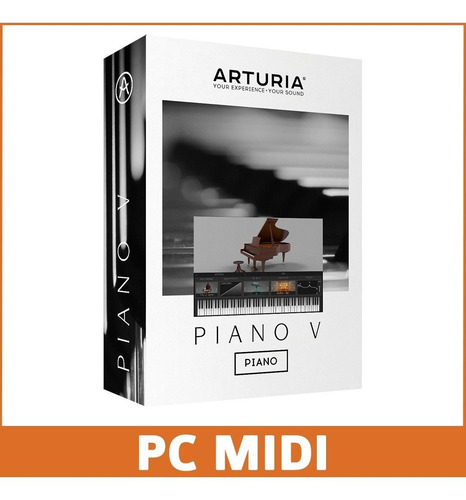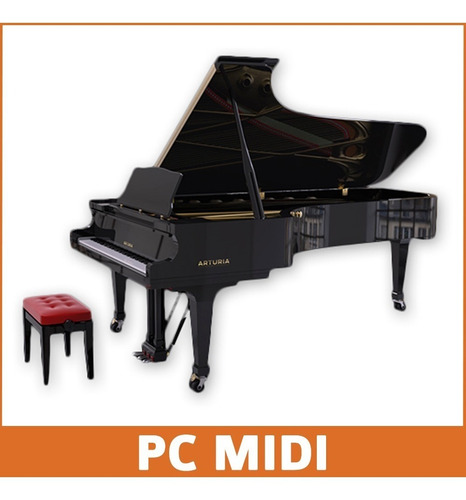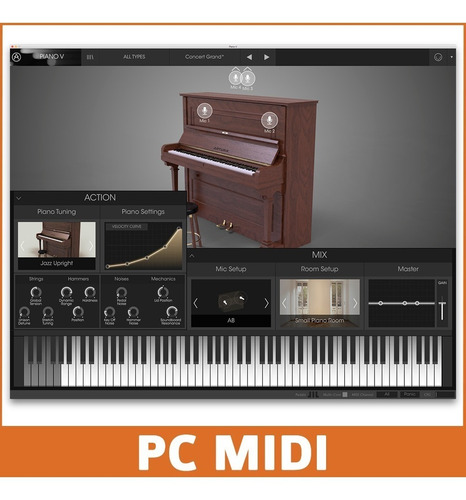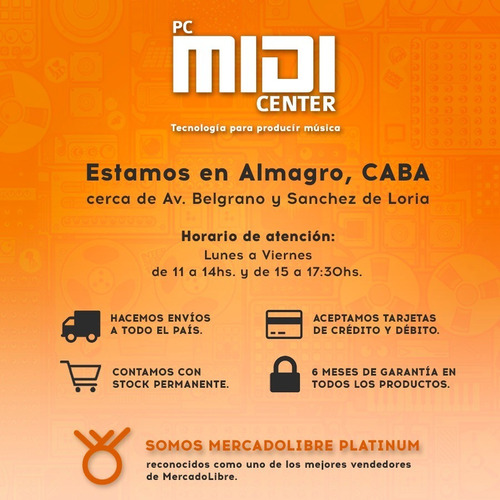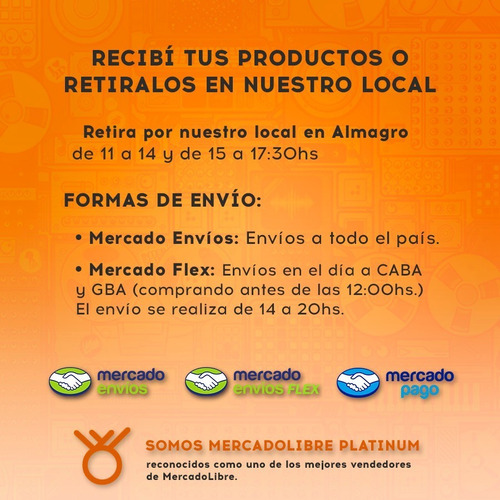 Características principales
| | |
| --- | --- |
| Desarrollador | ARTURIA |
| Nombre del software | Piano V |
| Modelo | Piano V |
| Versión | Piano V |
| Tiempo de licencia | 1000 años |
| Formato | Digital |
| Marca | Arturia |
Otras características
Funciones del software: Edición de sonidos

Nombres de los sistemas operativos compatibles: Windows,macOS
Versiones de los sistemas operativos compatibles: WIN 7+,MacOS 10.10+

Ediciones de los sistemas operativos compatibles: WIN 7+,MacOS 10.10+
Requisito mínimo del procesador: 2.5 GHz

Requisito mínimo de la RAM: 4 MB
Descripción
-¿Hay stock?
Si, mientras la publicación esté activa significa que tenemos stock, comprá tranquilo, no hace falta que preguntes.
PC MIDI Center - TECNOLOGÍA PARA PRODUCIR MÚSICA
¯¯¯¯¯¯¯¯¯¯¯¯¯¯¯¯¯¯¯¯¯¯¯¯¯¯¯¯¯¯¯¯¯¯¯¯¯¯¯¯¯¯¯¯¯¯¯¯¯¯¯¯¯¯¯¯¯¯¯¯¯¯¯¯
Descripción del producto

SOFTWARE ORIGINAL ARTURIA PIANO V LICENCIA OFICIAL

MODELED PIANO STUDIO
The Piano V now brings to the V Collection the king of all instruments, including a studio full of faithful models of various pianos, plus the ability to shape your piano sounds for a whole new level of control.

The Piano V delivers, not one, but nine different world-class pianos that we've meticulously crafted using our critically acclaimed modeling technology. Because they're models, you not only get a wide range of true pianos, we've been able to give you controls over different components and characteristics that have never been accessible before.

You can play pianos that are the pinnacle of realism or get as radical as you want with unconventional sounds. The versatile Piano V is an indispensable foundational instrument for any keyboardist, writer or producer in any style of music.

The king of all keyboard instruments is now in V Collection
Now you can finally get the ultra-authentic sound, feel and behavior of a real piano with the same convenience as the rest of your V Collection.

Still holding its own after centuries, the piano is the undisputed king of keyboard instruments. Piano V brings you all the expressive qualities you love that got you into playing piano in the first place.

Instead of using stacks of samples, we modeled nine different awesome pianos at the granular level of their physical qualities to deliver the realism you demand—and across a wide choice of piano flavors to fit in any song or mix.
With its sound, playability and flexibility, the Piano V is an indispensable instrument for all occasions.

Choose from legendary pianos

If you could have the sound of any piano you wanted… oh, wait… now you do!
There are as many different sonic personalities as there are pianos. No two are alike, even the same model from the same manufacturer. Different songs and different tracks also demand specific qualities. That's why Piano V gives you a total of nine different instruments spanning both grands and uprights. Just pick the preset that best serves you in the moment and you're good to go.

These models are totally malleable as well, letting go far beyond that to modify the different components that make up each instrument's signature sound—everything from slight tweaks to extreme treatments. The possibilities are endless.

The Piano V gives you complete control over the character of your pianos for the ultimate in creative options.

Change the environment too
The Piano V let's you shape more than just the instrument. You can also change the room and recording setup to dramatically refine both spatial and timbral qualities to your taste.

A given piano can sound very different depending on its environment, miking and processing. That's why we've factored all those elements into the Piano V models as well. With the simple click of the mouse, you can move any piano into a different type of room, select various mic positions, and shape the tonality with built-in EQ.

Whether you stick with presets or explore deeper environmental options, Piano V lets you easily get just the spacious qualities you're looking for—no engineering degree required.


Main Features:
- Advanced Physical modeling engine (no static samples).
- 9 different piano models to choose from.
- Concert Grand.
- Intimate Grand.
- Pop Grand.
- Jazz Upright.
- Piano-bar Upright.
- Pop Upright.
- Classical Upright.
- Glass Grand.
- Metal Grand.
- Customizable Action settings.
- Global string tension ( tuning).
- Unison detuning.
- Stretch tuning.
- Dynamic range.
- Hammer hardness.
- Hammer position.
- Velocity Curve editor to match your keyboard action.
- Customizable Mechanical noises.
- Pedal Noise.
- Key noise.
- Hammer noise.
- Mechanics.
- Lid position.
- Soundboard resonance.
- Multiple microphone positions.
- Microphone Mixer.
- Convolution Room simulator with 14 room types.
- Output parametric EQ.
- 35 factory presets.
- Easy to use MIDI mapping.


Requisitos minimos:

Windows 7 o más (64bit).
- PC: 4 GB RAM; 2.5 GHz CPU.
- 1GB free hard disk space.
- OpenGL 2.0 compatible GPU.

Mac ios 10.10 en adelante
- 4 GB RAM; 2.5 GHz CPU.
- 1GB free hard disk space
- OpenGL 2.0 compatible GPU

- Works in Standalone, VST 2.4, VST 3, AAX, Audio Unit, NKS (64-bit DAWs only).

EL SERIAL SE ENVIARÁ AL CORREO QUE FIGURA EN MERCADO LIBRE EN UN LAPSO DE 48 HS LUEGO DE LA ACREDITACIÓN.
¯¯¯¯¯¯¯¯¯¯¯¯¯¯¯¯¯¯¯¯¯¯¯¯¯¯¯¯¯¯¯¯¯¯¯¯¯¯¯¯¯¯¯¯¯¯¯¯¯¯¯¯¯¯¯¯¯¯¯¯¯¯¯¯
¿Dónde Estamos?
Almagro, Capital Federal. Cerca del Hospital Español.

Vení con tu vehículo, tenemos estacionamiento propio.


¿Cómo llegar?
Subte: Cercanos Estación Loria (Línea A) y Estación Venezuela (Linea H)
Colectivos: 2, 5, 7, 32, 41, 56, 61, 62, 64, 75, 84, 86, 88, 96, 101, 103, 115, 118, 132, 168, 188, 194.
¯¯¯¯¯¯¯¯¯¯¯¯¯¯¯¯¯¯¯¯¯¯¯¯¯¯¯¯¯¯¯¯¯¯¯¯¯¯¯¯¯¯¯¯¯¯¯¯¯¯¯¯¯¯¯¯¯¯¯¯¯¯¯¯
Horario de atención
Lunes a Viernes 11 a 14 hs / 15 a 17:30 hs.

¯¯¯¯¯¯¯¯¯¯¯¯¯¯¯¯¯¯¯¯¯¯¯¯¯¯¯¯¯¯¯¯¯¯¯¯¯¯¯¯¯¯¯¯¯¯¯¯¯¯¯¯¯¯¯¯¯¯¯¯¯¯¯¯
Formas de pago
Mercado Pago, efectivo o débito.
Tarjetas Visa, American Express y Master Card
¯¯¯¯¯¯¯¯¯¯¯¯¯¯¯¯¯¯¯¯¯¯¯¯¯¯¯¯¯¯¯¯¯¯¯¯¯¯¯¯¯¯¯¯¯¯¯¯¯¯¯¯¯¯¯¯¯¯¯¯¯¯¯¯
Envío
Mercado Envíos.
Envio a todo capital y GBA en el día por Mercado Envíos FLEX comprando antes de las 12hs (días hábiles)

¯¯¯¯¯¯¯¯¯¯¯¯¯¯¯¯¯¯¯¯¯¯¯¯¯¯¯¯¯¯¯¯¯¯¯¯¯¯¯¯¯¯¯¯¯¯¯¯¯¯¯¯¯¯¯¯¯¯¯¯¯¯¯¯
Garantía: 6 meses

Comprá con usuarios responsables, somos Mercado Lider Platinum.
Lee los comentarios de quienes ya nos han comprado. PC MIDI Center®.