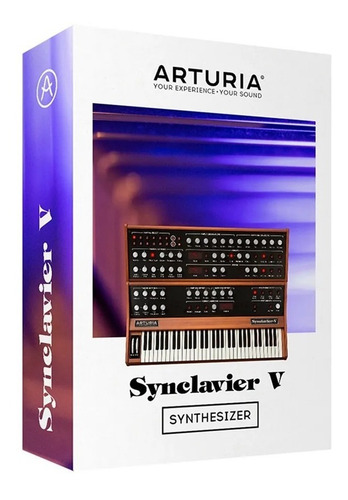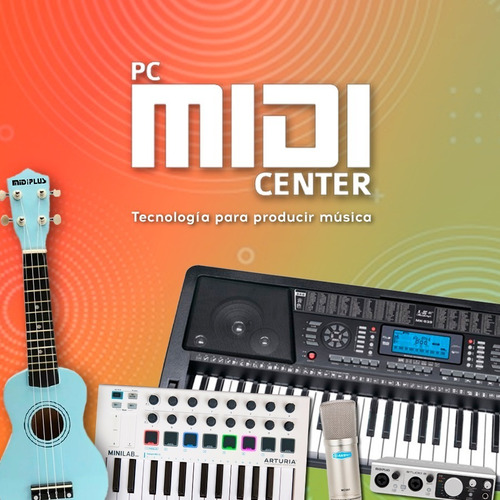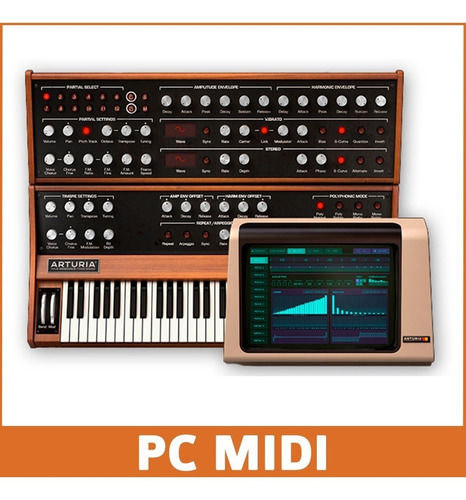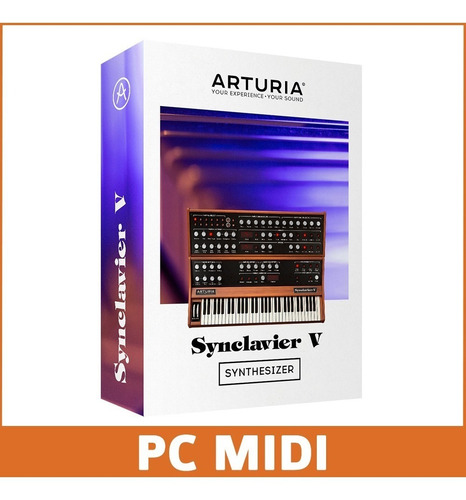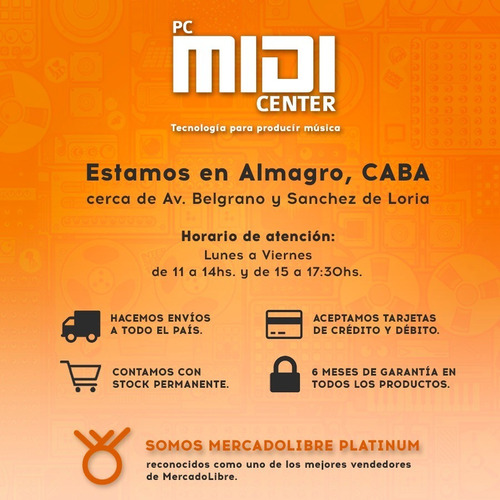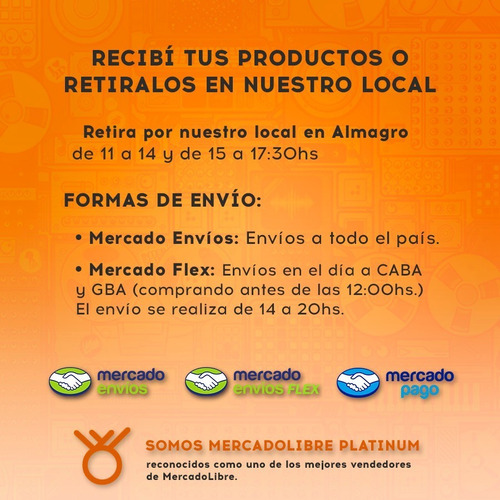 Características principales
| | |
| --- | --- |
| Desarrollador | ARTURIA |
| Nombre del software | Ned Synclavier V |
| Modelo | Ned Synclavier V |
| Versión | Ned Synclavier V |
| Tiempo de licencia | 1000 años |
| Formato | Digital |
Otras características
Funciones del software: Edición de sonidos

Nombres de los sistemas operativos compatibles: Windows,macOS
Versiones de los sistemas operativos compatibles: WIN 7+,MacOS 10.10+

Ediciones de los sistemas operativos compatibles: WIN 7+,MacOS 10.10+
Requisito mínimo del procesador: 2.5 GHz

Requisito mínimo de la RAM: 4 MB
Descripción
-¿Hay stock?
Si, mientras la publicación esté activa significa que tenemos stock, comprá tranquilo, no hace falta que preguntes.
PC MIDI Center - TECNOLOGÍA PARA PRODUCIR MÚSICA
¯¯¯¯¯¯¯¯¯¯¯¯¯¯¯¯¯¯¯¯¯¯¯¯¯¯¯¯¯¯¯¯¯¯¯¯¯¯¯¯¯¯¯¯¯¯¯¯¯¯¯¯¯¯¯¯¯¯¯¯¯¯¯¯
Descripción del producto

SOFTWARE ORIGINAL ARTURIA NED SYNCLAVIER V LICENCIA OFICIAL

DIGITAL DREAM MACHINE
The Synclavier V faithfully recreates the elite digital synthesizer/workstation that started it all, powering some of the biggest hits and film soundtracks of the early '80s with its unique rich, edgy sounds.

If you were to ask anyone back in the late '70s and early '80s to name the Holy Grail of synthesizers, the most revered of them all was New England Digital's Synclavier. Its unique combination of additive synthesis and frequency modulation delivered a creative edge to the privileged few keyboardists, producers, film composers and sound designers who could afford systems that ranged from $13k to $400k.

Some of those rock-solid systems are still in use today. Arturia has recreated this highly revered hit maker in partnership with original programmer Cameron Jones, delivering the immense rich textures and creative palette of this vintage instrument, while dramatically improving it to let you blaze new musical trails today with sounds never heard before.

Sounds you will only find here
There's simply nothing else like the powerhouse sound of the Synclavier V. No synth arsenal is complete without it.
There's no hint of analog or samples here—this is the sound of unabashed digital synthesis in all its glory. While it can certainly create unique mellow tones, this vintage flagship is more known for its distinctive digital character ranging from edgy to eardrum-ripping brash to intergalactic.

It's especially ideal for extended pads and slow cinematic, ambient soundscapes. Plus, we've invested in significant updates that make the Synclavier V a thoroughly modern instrument with sounds that set it—and you—completely apart.

Hundreds of presets from the world's top sound designers tame the unparalleled power of the Synclavier V and place it at all your fingertips for instant inspiration and easy customization.

A programmer's dream
While you'll get tons of love from Synclavier V's presets alone, there's a universe of sonic adventures waiting just beneath the surface whenever you're ready.

The unique sound of the Synclavier V comes from its blend of additive and FM synthesis, with control over 24 additive harmonics on both the carrier and modulation oscillators. Where the original instrument let you mix four uniquely programmed Partials Timbres in a Timbre preset, Arturia's recreation has twelve, boosting your creative possibilities exponentially. The Time Slice engine allows complex evolutions of the sound over time—even several minutes if you want.

Programming the Synclavier V is a study in elegance. Three different interface views let you choose the depth of control that best suits your needs.

The Synclavier V lets you realize the dream of an entire stunning synth orchestra with just one plugin.

Welcome to an exclusive club
35 years ago, most musicians never had the chance to even touch, let alone use, the most coveted instrument of the day. Now with Synclavier V, that's history.

Now you can enjoy the same creative advantage as did Michael Jackson, Tangerine Dream, Sting, Frank Zappa, Pat Metheny, Chick Corea and other iconic acts. You'll still have an exclusive instrument—you won't find a recreation anywhere else, let alone one faithfully co-created and enhanced by the original programmer.
Round out your collection with this rare digital luxury instrument once only found in universities, laboratories and elite studios.


Main Features
- Software synthesizer playable through a MIDI keyboard
- 450 presets sounds
- Original programmer + original code = the original Synclavier synthesis engine
- Powerful FM (frequency modulation) synthesis
- Full additive synthesis:
- Time Slice engine for dynamic additive synthesis.
- Additive waves for both carrier and modulator waveforms.
- Expanded number of partials to 12 (the original had 4).
- Variable bit depths (original was only 8-bit).
- High-quality output effects.
- Algorithmic reverb.
- 50 presets from the original Synclavier library.
- VST, VST3, AU, AAX, and standalone operation.
- Support for Native Instruments NKS format.

Requisitos minimos:

Windows 7 o más (64bit).
- PC: 4 GB RAM; 2.5 GHz CPU.
- 1GB free hard disk space.
- OpenGL 2.0 compatible GPU.

Mac ios 10.10 en adelante
- 4 GB RAM; 2.5 GHz CPU.
- 1GB free hard disk space
- OpenGL 2.0 compatible GPU

- Works in Standalone, VST 2.4, VST 3, AAX, Audio Unit, NKS (64-bit DAWs only).

EL SERIAL SE ENVIARÁ AL CORREO QUE FIGURA EN MERCADO LIBRE EN UN LAPSO DE 48 HS LUEGO DE LA ACREDITACIÓN.
¯¯¯¯¯¯¯¯¯¯¯¯¯¯¯¯¯¯¯¯¯¯¯¯¯¯¯¯¯¯¯¯¯¯¯¯¯¯¯¯¯¯¯¯¯¯¯¯¯¯¯¯¯¯¯¯¯¯¯¯¯¯¯¯
¿Dónde Estamos?
Almagro, Capital Federal. Cerca del Hospital Español.
Local a la calle para que puedas ver todos nuestros productos.
Vení con tu vehículo, tenemos estacionamiento propio.


¿Cómo llegar?
Subte: Cercanos Estación Loria (Línea A) y Estación Venezuela (Linea H)
Colectivos: 2, 5, 7, 32, 41, 56, 61, 62, 64, 75, 84, 86, 88, 96, 101, 103, 115, 118, 132, 168, 188, 194.
¯¯¯¯¯¯¯¯¯¯¯¯¯¯¯¯¯¯¯¯¯¯¯¯¯¯¯¯¯¯¯¯¯¯¯¯¯¯¯¯¯¯¯¯¯¯¯¯¯¯¯¯¯¯¯¯¯¯¯¯¯¯¯¯
Horario de atención
Lunes a Viernes 11 a 14 hs / 15 a 17:30 hs.
Local a la calle para que puedas ver todos nuestros productos.
¯¯¯¯¯¯¯¯¯¯¯¯¯¯¯¯¯¯¯¯¯¯¯¯¯¯¯¯¯¯¯¯¯¯¯¯¯¯¯¯¯¯¯¯¯¯¯¯¯¯¯¯¯¯¯¯¯¯¯¯¯¯¯¯
Formas de pago
Mercado Pago, efectivo o débito.
Tarjetas Visa, American Express y Master Card
¯¯¯¯¯¯¯¯¯¯¯¯¯¯¯¯¯¯¯¯¯¯¯¯¯¯¯¯¯¯¯¯¯¯¯¯¯¯¯¯¯¯¯¯¯¯¯¯¯¯¯¯¯¯¯¯¯¯¯¯¯¯¯¯
Envío
Mercado Envíos.
Envio a todo capital y GBA en el día por Mercado Envíos FLEX comprando antes de las 12hs (días hábiles)

¯¯¯¯¯¯¯¯¯¯¯¯¯¯¯¯¯¯¯¯¯¯¯¯¯¯¯¯¯¯¯¯¯¯¯¯¯¯¯¯¯¯¯¯¯¯¯¯¯¯¯¯¯¯¯¯¯¯¯¯¯¯¯¯
Garantía: 6 meses

Comprá con usuarios responsables, somos Mercado Lider Platinum.
Lee los comentarios de quienes ya nos han comprado. PC MIDI Center®.

Software Arturia Ned Synclavier V Original Cuotas
en 6x $656,35 sin interés